The Starlite Luna Inflatable Chair Prepare to be gob-smacked
posted by
Handy Ideas
on
July, 17, 2015
in
Reviews
tagged with
Reviews
Lucky for Handy Ideas that we stocked up on the Starlite Luna Inflatable LED Chair as soon as it was featured on ITV. This fun-packed novelty gadget certainly made a big impact on This Morning presenter Phillip Schofield, so let's find out what all the fuss is about.
How many pieces of furniture come stuffed with strobing LEDs, a remote control and a foot pump? Well, if you want a jaw-dropping chair that illuminates in thirteen colours and flashes and fades at the flick of a switch then you're in the right place.
The first thing that hits you about the Starlite Luna is its mesmerising glow. It's truly fantastic. You just can't take your eyes off it. The luminescent pulsating spectacle emanating from the Luna Chair will cheer up any living room, but it's also tough enough to use in the garden, or even, so say innovative furniture maker Starlite, but tongue firmly in cheek we think - fishing.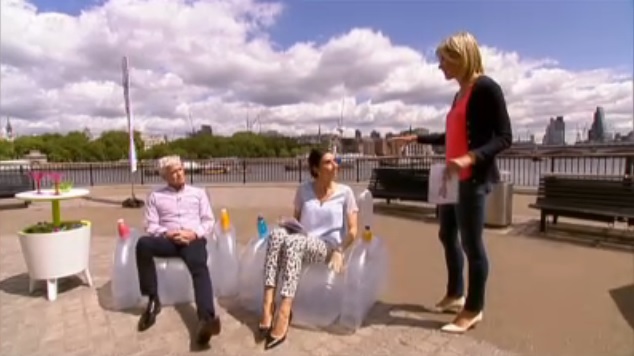 Interesting Fact | The Starlite Luna Chair is 'out of this World,' says Phillip Schofield, ITV Presenter, This Morning
The idea for an illuminating chair was Starlite Furniture Director Colin Cowan's, who, at a beach party, wanted something 'fun new and exciting to sit on and somewhere to put my drink'. The Luna Chair is definitely loads of fun, but it's surprisingly practical too being washable, portable, and has a drinks holder built into in each arm just for Colin. Although you probably won't need one, but if you give the Luna Chair so much stick that it gets a puncture, there's even handy patch to fix it and the LEDs are so efficient that on just three little AAA batteries, even if you leave it switched on all day, the Luna will glow for ages. In fact, the Luna Chair is so easy to blow up, deflate and pack away that we're tipping it as 2016's funkiest gadget to take to a festival.
'When you're at a festival in a sea of canvas you can find your way back to your tent. It's like a camping homing beacon...' says, Colin Cowan, Director of Starlite Furniture and manufacturer of the Luna Chair.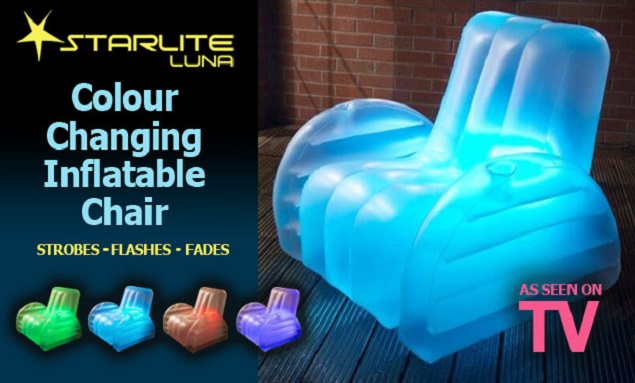 Interesting Fact | The LEDs that power up the Starlite Luna Chair last for twenty six hours
In a nut-shell the Starlite Luna Chair is luminescence par excellence that's a ton of fun whether you want to liven up your living room, bring your X-Box obsessed kid's bedroom to life, or glow in the dark camping. What's wrong with Starlite Luna Chair? That's easy - NOTHING, well as long as you don't really think your Grandad's going to sit fishing with his mates flashing like a bulbous ET's index finger...
You can find our more fun ways to use the Starlite Luna Chair here or watch the video below.